With millions of Americans now working from home at least once a week, the presence of a home office is rising in desirability for many home buyers. Not only is this where they will spend most of their time, but these telecommuters and entrepreneurs crave a design that inspires their creativity and boosts their productivity. The question then for developers is should the home office come with bells and whistles or will a bare bones approach do?
According to interior design blog Brabbu.com, "The spaces in which we work have a direct effect on creativity and productivity, so it is important that offices are designed for maximum inspiration."
There are some design trends that can easily brighten the home office in a model home to inspire buyers. For example, built-in shelving or desk areas are a great solution when space is tight. Also, consider the location of these features to take advantage of natural light as much as possible, or use recessed can lighting to put the spotlight on the workspace.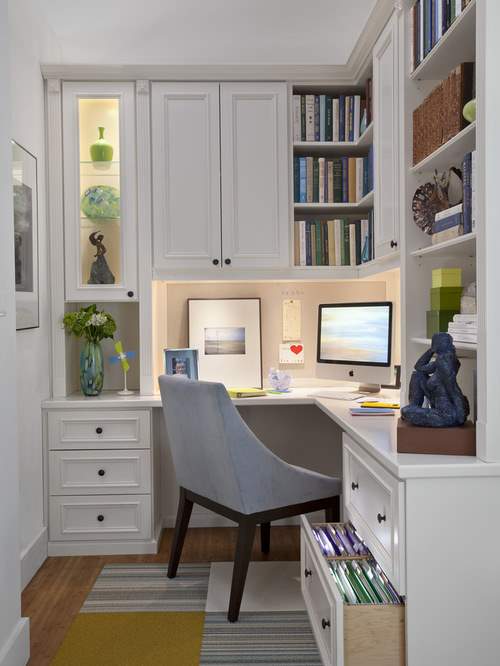 First Time Buyer Trends:
The first time buyer would be considered lucky to have dedicated office space in the house and, if it's there, it will likely be very small. Fortunately, there are a few design tips to make a small office space appear larger. Making a wall of furniture custom fit built-ins for the space is one popular design trend many developers utilize. The neatly crafted desks and shelves make it easy to keep the work area organized and free of clutter. Another effective trick that gives the illusion of a larger space is painting the room in a light shade. Complement that with lots of recessed canned lighting to visually brighten and widen the space.
Move Up and Luxury Buyer Trends:
There will definitely be space for a nice office in the move up and luxury homes and a well-planned design can to make it more comfortable and inviting. If there are multiple family members who will use the home office at the same time, individual workstations can be created around themes to distinguish each person's space. There may even be a homework area assigned for the kids, in addition to lounge furniture to quickly convert to a TV room when the work day is done.
A Constant and Evolving Space
According to Entrepreneur.com, the need for at-home workspace is constantly increasing with an estimated 25 million Americans working from home at least part of the week. Developers should adopt a design approach that accounts for the high chance prospective buyers may want to work from home, even if only occasionally. Factor in the needs of the at-home professional into the design of single family model homes to attract and appeal to the modern buyer.