For many homeowners, the master bedroom is the most opulent room in the house. It is a cozy retreat to which they can escape for some rest and relaxation, or to simply get away from the bustle of the outside world.
Design trends for the master bedroom include exquisite chandeliers, imposing ceiling treatments, and a dramatic bed and headboard combination. Higher end homes allow for his and her bathrooms, as well as an office, home gym or a nursery inside the master bedroom. Your model home design should be inviting and comfortable to attract the right homebuyers to your property.
First Time and Move Up Buyer Design Trends:
Both first time and move up buyers are motivated to buy homes with a cozy master bedroom. In this room, the focus will be on the sleeping area, with a plush bed framed by an impressive headboard. A custom designed headboard also adds a dramatic effect, making the bed the main focal point of the room. Modern design trends include headboards made from reclaimed wood or aged metal, with accent paint highlighting the walls to make the room more vibrant. The look is complemented with bold ceiling treatments made from wood beams or other materials.
Luxury Buyer Design Trends:
In addition to the design features mentioned above, a majestic chandelier will be one of the main features in the luxury home's master bedroom. Impressive lighting adds a touch of elegance and draws attention to the principal design areas in the room: the bed and its imposing headboard. An abundance of space also makes it possible to add comfortable seating areas in which to relax or enjoy a few drinks and entertainment. As luxury owners seek to create the ultimate hideout, some master bedrooms may also feature an office, a mini in-home gym or a fully decked out nursery. With all these amenities, the master bedroom becomes the perfect hideaway at home.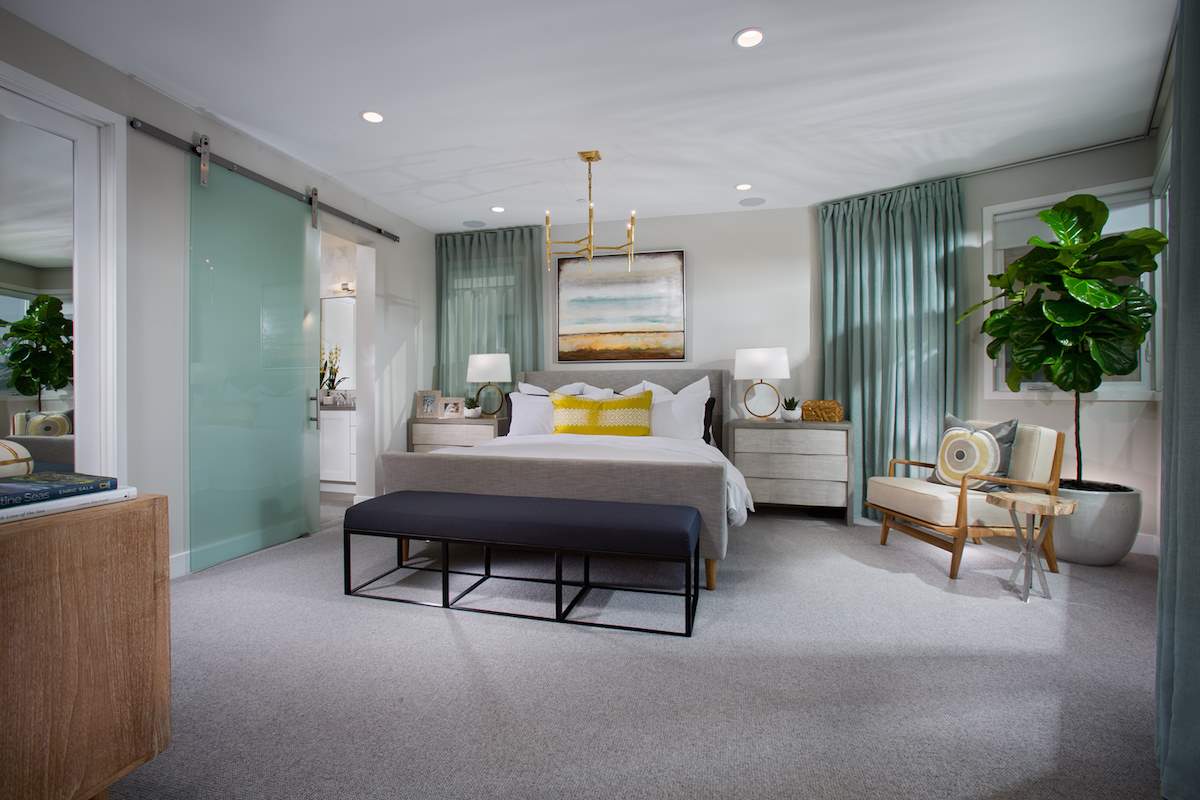 From Sleep Center to Private Getaway
With updated design trends, the master bedroom has evolved from a sleep center into a luxurious private getaway within the home. Design blog decoist.com explains, "If there is one room in your home that should truly reflect your taste, personal style and surround you in a world of uncompromising comfort, the master bedroom is the room. This is your personal sanctuary that allows you to rest, rejuvenate and introspect."
And single family developers are clearly paying attention to the needs of today's home buyers who wish to have a 'home within a home' retreat. Developers are making sure that their model homes have plenty within this room to adequately reflect the needs of potential buyers–be it relaxation, entertainment, work, or rejuvenation. The only issue then for homeowners is avoiding the temptation to become a recluse in their private retreat.